Scuba
mafia

Story

It all began at the early days of this millennium. We both had decided to participate on a dive course, and that is how we met. After the course we continued diving together. Soon it became obvious that in the very dark waters of Finland one must have a proper dive light. Torches of the period were either pretty primitive or very expensive, in the worst case both features were incorporated in the same product.

Both of us have very strong and widespread background in the engineering. We discussed of making a dive light ourselves. After many conversations and prototypes first lights were ready for testing. Few trial and error type of tests and we had good working dive lights.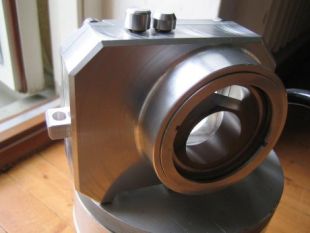 The first lights were soon nicknamed "boombastic", because of the size of the canister and the power of the light. At the time, we used sealed lead-acid batteries and halogen bulbs. The year was 2004, I think. Boombastic lights were enough for a while, but when recreational diving turned to technical diving over the years it became obvious that we did not have the right tools for the job.
Riku bought a HID light to get lighter canister and more light. Veli still refused to rely on commercial torches, so he decided to build a LED light in 2007. He used the very first generation of high power LEDs. They seemed to be the choice of the future, so we decided it was the way to go. We used first LED lights ourselves. Others were skeptical in the beginning. Being fed up with high prices and easily breaking HID bulbs, seeing the new light in action our friends started asking if we could make LED lights for them as well.
Our reputation of excellent quality spread out fast and lots of other people started asking if they could get one also. Demand got bigger and more ideas came in during our dives. People encouraged us to make more lights.
After many discussions and a lot of research we decided to start manufacturing lights professionally. At that moment Scubamafia was born, early February in 2009. In the beginning we made everything ourselves, as we wanted to manage every aspect of our new products. That lasted only for a while. Slowly we outsourced machining and production of electronics to have more time for R&D. That allowed us to do more research and test dives and even have a nice cave dive without any testing every now and then. (yeah, right…) As our lights have gotten more popular we have found good partners. They have given their contribution to light design and properties.
So, here we are. More than ten years has gone by. Both of us dive with rebreathers, mostly in caves and wrecks. There has been some progress with the lights as well. When compare the lights at the beginning of our journey to the lights of today, there are lots of differences. The weight of the newest model, #1, is  a bit over a tenth of the original boombastic, burn time and lumens have skyrocketed simultaneously with weight loss. But that is not the end, still aiming for something better!
Here's a little bit of statistics and pics below, all the pics are in same scale!
The first canisterlight, "Boombastic, year 2004:
Weight 7800g
144Wh (12V 12Ah) Lead-acid battery
50W halogen
Approximately 500 lumens
160 min burn time
10lm/watt
64lm/kg
The first LED, year 2007:
Weight 3500g
104Wh (14,4V 7,2Ah) NiMh battery
6xCree XR-E P4 LEDs, 24W LED power + off-the-shelf driver, loss ~5W. Total consumption ~30W
Approximately 1000 lumens
200 min burn time
33,3lm/watt
286lm/kg
UDG Oy was established 11.2.2009
It started manufacturing Diving lights under Scubamafia brand
LED6, the first primary light by Scubamafia, year 2009:
Weight 2200g
154Wh (14,8V 10,4Ah) Lithium-ion battery
6xCree XR-E 5LEDs, 24W LED power + off-the-shelf driver, loss ~5W. Total consumption ~30W
Approximately 1400 lumens
300min burn time
47lm/watt
636lm/kg
G3, Next generation of LED's, year 2011 -> now:
Weight 2200g
154Wh (14,8V 10,4Ah) Lithium-ion battery
3xCree XP-G(2), 16,5W LED Power + custom made driver with thermal protection, loss ~1,5W, Total consumption ~18W
Approximately 1500 lumens
500min burn time
83lm/watt
682lm/kg
#1, The latest one.
Weight 950g
75Wh (11,1v 6,8Ah) Lithium-ion battery
1xCree XM-L2 LED, 12W LED power + custom made driver with thermal protection, loss ~1,5W, Total consumption ~14W
Approximately 1200 lumens
300min burn time
86lm/watt
1260lm/kg